Eliot and Meg Walker, Field House, Toadsmoor, Brimscombe, Stroud, GLOS, GL5 2UL.Tel. +44 (01453) 884268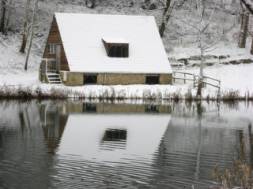 Firstly, a very happy Christmas and a prosperous New Year to you all!
As usual with my Christmas letters I shall get a few things off my chest first. The first one is America. This morning I listened to the radio report about the Bali conference on climate change. It seems that the American resistance to taking any real steps to deal with it is gradually being broken down and to hear their representative being booed was really quite extraordinary. We, of course, in Gloucestershire experienced at first hand what might be the effect of climate change with the overwhelming amount of rain we had in July, which resulted in severe flooding. My own view is that we need to not only deal with carbon emissions, but also with world population growth, which for all sorts of reasons is spiralling ever upwards and is also not sustainable. But I suspect that political correctness and religious correctness make the subject of population control taboo, so I guess you may not hear much about it. We shall see.
At the same time as thinking about these worldscale problems, it also took me back to my time when I was a student in Oxford and did my thesis on airport design and a Severn barrage in the 60ís. There is currently great controversy as to whether to construct a new runway at Heathrow. At the same time there is concern as to how we can generate power in the future. Well, it does not take a genius, and it did not then, to work out that Heathrow is a rotten site for an airport, with relatively poor transport links and in the middle of a built-up area. Much better to site it up in the Midlands, perhaps near Birmingham, at the junction of motorway networks linking north and south and east and west of the country.
And as for power generation, what about the barrage across the Severn estuary? Well that idea has been around for probably 150 years, but I doubt that the chances of actually doing it are any greater than they were then.
Actually, I think the best way of reducing carbon emissions is by encouraging a dramatic reduction in air travel, at least until we have jet engine design sorted out, and constructing a load of nuclear power stations, because the idea we can generate the amount of electricity we need by alternative means is simply not credible!
But I can't leave the subject of world problems without a mention of the wars in Iraq and Afghanistan. At least we seem to be withdrawing from Iraq but only time will tell what state we have left the place in. And as for Afghanistan, that poor country is now poorer and more corrupt and I read that poppy production is at the highest level it's been for years. And yet there is a worldwide shortage of opiates for hospital use! Extraordinary! I suspect that both we and America will be pumping aid money into these countries for years to come.
Anyway, enough of the serious stuff.
What about the family you ask?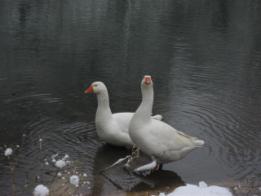 The 'children', 28, 25 and 22 have all been busily moving flats. Tom has moved from Earls Court to Marjorie Grove in Clapham, and he and Camilla are still together enjoying life in London. Tom has been on something of a fitness binge and been doing lots of running, most recently a half marathon in Bedford in the pouring rain! He is talking of going to Vancouver and running a marathon there on one of his holidays. He continues to work at Chelsea and Westminster Hospital but it is not very well paid and there is no real evidence that the NHS is really sorting its administration out.
Jessie continues to live in Oxford, and work in Aylesbury but has moved from East Oxford to West Oxford and lives down Binsey Lane. Flooding was severe around their flat, but luckily they were not drowned, although their allotment ended up under six feet of water. She and Peter Lloyd are still an item and seem very happy together. She is an occupational therapist working with children with cerebral palsy. It is very hard work but she is taking on more responsibility, has learnt a great
deal, and loves working with children
Sam is still living in Brighton and seems to have moved flats a number of times. He is working as a chef in a gastro pub called the Eagle, and when he finishes the day job he then goes off sound engineering for rock bands for the rest of the night. He seems to have boundless energy and enthusiasm, although he does find the work in the pub pretty exhausting. He has a lovely girlfriend called Nina who is an art student and luckily also a rock music enthusiast.
Meg has had a very busy year. She has spent a great deal of time looking after her mother, Joan, over in Cardiff. Joan will soon be 97 and remains fully mentally agile. She does find it a little difficult to get around but is really quite remarkable and Meg enjoys looking after her, although it does mean long breaks from Field House. It also means that she has to cram an awful lot into the time when she is at home so what with running the Guild of Pregnancy and Postnatal Instructors, and her Pilates and aerobics instructing she has very little time to herself. But she never complains, unlike me who complains bitterly about everything and everybody at every opportunity!
For my part, I have done a little bit of architectural work and got some good planning permissions for friends who have been very pleased with the results. Which is nice. And I have also looked after the animals and kept our little estate in good order. Buster the Ram is currently doing his stuff with four of the ewes so hopefully we shall have some lambs in the spring. I have also tried to grow a reasonable quantity of veg but potato blight was a real nuisance this year and of the six varieties I planted, three were struck down by this rather horrid disease due to the wet weather.
And it was wet! The millpond behind us that is normally empty, even in winter, filled up in two hours. We began to get very worried that we were going to be inundated as the lake above us had surcharged its banks. But luckily the millpond absorbed the flash flood that was coming down the valley and as a result we remained high and dry. This, of course, was not true for much of Gloucestershire and we had no drinking water for two weeks because the pumping stations had been polluted.
Meg and I did manage to get away and have a lovely weekend break in Exmoor and Devon in March. Inspired by this, we followed it with a wonderful week in Devon and Cornwall in April. We had beautiful weather and saw lots of National Trust properties as well as the Eden Project and the Lost Gardens of Heligan. It was really good fun and we enjoyed travelling together again and staying at different places every night.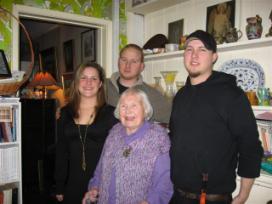 And talking of travelling, another highlight was the fact that Ted Simon, the intrepid round the world motorcyclist who inspired Ewan McGregor and Charlie Boorman's trips Long Way Round and Long Way Down, came and stayed with us. He had, at the age of 72, completed a repeat of his trip round the world by motorcycle and was in Europe to promote his new book, Dreaming of Jupiter, describing his latest travels. His conclusion was that the world was a much more dangerous place than when he travelled in the 70's, but despite this he met kindness and generosity from people wherever he went.
Camping with the cousins in the New Forest took place in August as usual, with yours truly cooking a huge pan of beef korma for seventy people and drinking rather more wine than was good for him. The only sadness was the death of Alan Dipper who had been the founder of 'camp' and died in September. But camp remains something of a family institution and has been a wonderful way for the generations to get together and catch up with each other's news.
I hope this letter has given you a chance to catch up with our news, and we wish you all the best for the New Year.
Love and peace
Eliot and Meg XXXXX