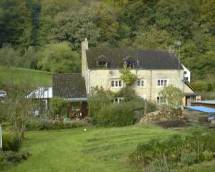 Field House, Toadsmoor, Brimscombe, Stroud, GLOS, GL5 2UL
Tel. 44 (0) 1453 884268
Email eliot@ogpog.freeserve.co.uk
I apologise if this letter does not get to you until Christmas 2002 is well and truly over. Once again matters have conspired to prevent me putting pen to paper, well, fingers to keyboard, until too late to get the Xmas post.
I shall get the sad news out of the way, which is that Meg's sister Juliet died shortly before Christmas on 4 th December. For those of you that did not know or had forgotten, she was diagnosed with mesothelioma some 18 months ago. Mesothelioma is a type of cancer caused by exposure to asbestos. It used to be very rare but is now much more common.
Juliet was quite incredibly brave about it. I did some research on the internet, but her doctors confirmed it was not curable and too advanced to be operable. As chemo and radiotherapy were also not effective on it she decided to ignore these therapies, although she was offered them, and instead chose a healthy diet and vitamin supplements. This approach worked in so far as she had very good quality of life even until the last few weeks. There were then varying degrees of pain, but this was controlled very effectively by paracetamol at first and then morphine. The end was actually quite sudden, from peritonitis caused by the mesothelioma.
I had at times found Juliet a very difficult person but in recent years we had got on rather better. She had become very religious but, putting that on one side, we had many interesting debates and discussions and she was a great fund of ideas. Meg especially misses her as they were very close and I shall miss her too.
So, now you know why the Xmas letter is a bit late and I am sure you will forgive me.
A lot of other more cheerful things have happened over the year; perhaps the most exciting in some ways was that we had eight lambs in the Spring, bringing our flock up to nineteen. Rambo had done his stuff and the old ewes produced healthy progeny without mishap. We also have five 'teenagers', lambs that we kept from the freezer and are now ewes. These should produce next Spring if Buster, a borrowed ram, has been a good boy. Rambo has gone to a friend's flock as we thought it would not be polite for him to be having affairs with his daughters.
The other excitement was that hens arrived. In a moment of extreme weakness Meg decided to order a new henhouse and six point of lay Black Rock hens. The house and hens duly arrived. The henhouse is a luxury model costing about as much as small bungalow and it turned out that 'point of lay' was a fairly imprecise term, basically meaning that they might lay an egg in the next six months if we were lucky. After, feeding them for what seemed like an age they have finally started producing and once again the fridge is piled high with eggs and my cholesterol is rising to unprecedented levels.
When I am not feeding the sheep and hens, I have been helping Meg with the Guild of Postnatal Exercise Teachers. We have managed to produce the newsletters, as well as train new teachers and run study day weekends. How Meg does it I do not know.
My work has been fairly relaxed. I am still helping my old friends in London, Sovereign Land, on a very part time basis and Witney now has a new industrial estate with a huge factory making timber frames for houses.
Tom, who is now 23, and had been living at Redcliffe Square during his own student days at London Guildhall had, I think had mixed feelings about leaving. But he now has his own place in Cirencester, which he rents whilst he decides what to do next. He has a part time job working in the local gun shop – yes, we still have one despite the best attempts of the Government, to make sure that all forms of sport that are politically incorrect are banned. Having got his degree in Business Studies, he has no real urge to go into business and would rather pursue his own interests, computer studies and pottering around on his motorbike.
Jessie is at Oxford Brookes studying to be an occupational therapist. She is loving the course and full of enthusiasm. It has given her a lot of common interest with the work that Meg does and the house is filled with biology and physiology textbooks. She found a house in Oxford just opposite the college and rents this with friends. It was a very odd feeling to go back to Oxford when Jessie was moving in, and see how the Polytechnic as it was when Meg and I were there has been completely changed and is a really vibrant and happy place.
Sam is happily studying catering and hospitality at Gloucester College of Art and Technology, confusingly located in Cheltenham. As it involves preparing food he is happy and we hope he sees it through. He remains as enthusiastic as ever about his music and has now purchased a full drum kit, so he can learn to play that as well as the guitar. As a result, we had to build another stable, with even more soundproofing and even further away from the house. In the summer we did wonder if the sound of distant thunder meant a storm was on the way, but then realised it was just Sam warming up on a Black Sabbath drum roll.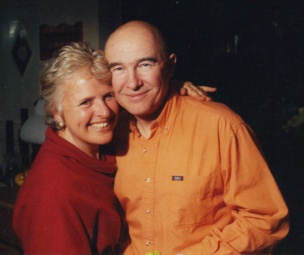 We look forward to the day when the progeny support us in our dotage, but it still seems a long way off. Not the dotage, which is getting ever nearer, but the supporting us bit.
Our only regrets this year have not been seeing more of you but maybe 2003 will change all that.
Until then , love, kisses, hugs and handshakes to you all and as ever we wish you good health and happiness for the coming year.
Eliot and Meg XXXXXXXXXXXXXX