Field House, Toadsmoor, Brimscombe, Stroud Glos, GL5 2UL
Tel. 44 (0) 1453 884268
Email eliot@ogpog.freeserve.co.uk
I have started to receive the first of the Christmas round robins and this has reminded me that I ought to get on with ours. It's a mixed bag of news this year with all the highs and lows of family life! Yes, its all here – so read on!
There were two important birthdays this year. Sam had his 18 th and Jessie her 21 st .
Meg and I cannot believe it and still remember them as toddlers pottering about the garden. They for their part think we are senile, but a useful source of money. And Sam, being the Big Spender had a really great idea of what to do with Dad's money – organise a gig for his birthday.
"Dad, all you have to be is the 'promoter' – I'll organise the bands - and we can stage it in the newly refurbished Subscription Rooms in Stroud…Really, its easy, leave it to me……….."
Well, we learnt a lot and all credit to Sam, he did organise the bands. And we desktop published adverts, flyers and tickets, organised security, filled in copyright forms, and to my utter amazement, there was a really good turn out on the night. Sam's negotiating and calming skills were tested to the utmost. A key member of one band was so drunk/nervous/stoned that the bouncers threw him out and it took all Sam's considerable good nature and verbal expertise to allow him to be readmitted so the gig could continue, which it did with great success!
Jessie's 21 st was rather more sophisticated with a dinner party for her friends, and the consumption of an even more staggering amount of alcohol. She also fitted in a whistle stop tour of America, having discovered the power of the students' union card. She and her friend Molly flew to Boston, then to New York, to Virginia, down to Fort Lauderdale and Miami, across to San Diego before driving to Vegas, Phoenix (to stay with Luke Kelly) and Grand Canyon: finally back to San Diego before finishing off in San Francisco. Phew! She's back in Oxford now studying occupational therapy.
Tom has had a year of independence, living in his digs in Blackjack Street in Cirencester. He has done various different sorts of work and has a lovely girlfriend, Camilla. He did a spell with a printing firm that churned out tons of junk mail using a vast database. The firm hardly understood how the computer operated machinery that they used functioned. But Tom did, and having set it up, got bored of the repetitive work, the in house politics and the anti social hours. He has done posh waitering at big events, house sitting for friends and worked over the summer for a contractor building conservatories, so he is getting lots of experience at different things. He still loves computers and is getting practical experience taking them to bits to see how they work. He is also writing websites as a sideline and has joined the local linux user group chaired by a childhood neighbour, Guy Edwards.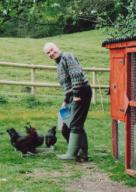 But what of the parents you ask? My first year of 'retirement' has passed with me being busier than ever and doing a wider variety of things than I have been able to do for ages. I have even read a few books, something I have not managed to do for years. And considering I used to read one a day (true) and in recent years hardly had time to ready any its great!
The stock market has perked up so I am able to day trade a few shares and this has made me some pocket money and pays for my shooting, which I still love.
I am also able to devote some time to the land so the fields look the best they ever have, and whilst the sheep do most of the work, I trim their toenails, treat them for fly strike, and give them general encouragement. Buster the ram does the fatherly duties and we had lovely lambs this year. But in case you think I am getting sentimental, I have been doing all the butchering. I am getting quite good at it and it saves them the horrid trip to the abattoir. So we eat a lot of lamb and with the aid of Sam's cookery manuals I have learnt how to prepare a crown and cut a Barnsley chop! We also swap lamb for beef with like-minded friends, which gives a bit of variety! The hens have also been busy and laid steadily throughout the summer so what with them and the veg garden we feel quite productive. Even if we are not self sufficient, we do manage to grow about a third of what we consume. And having just come back from a day trip to Calais with a friend and an estate car groaning under a load of half price wine we don't do too badly getting stuff we can't grow!
Meg has been unbelievably busy. She is quite incapable of saying no to any requests for help and her enthusiasm for mothers and babies continues unabated. So we continue to run the Guild of Postnatal Exercise Teachers, and she continues to be a breast-feeding counsellor with the NCT plus also working at Stroud Maternity hospital giving advice on a voluntary basis. All this, as well as running her various exercise courses and working for the local education authority. It seems to suit her and she has all sorts of ideas for the future, so I shall get little peace.
Sad news was the death of my mother, but the good part of it was that she died in her bed, just literally went to sleep, and I was grateful for that. We approached the local rector about a funeral service, but he was so useless that we did it all ourselves. This meant I had to run the service at the crematorium, and we had a Quakerly sort of meeting of my devising, with some silence but also a couple of hymns as a compromise. And cousins came and said some good words too so I cannot think of a better send off for Mum. Later we scattered her ashes on her parents grave, as we were not allowed to bury them due to C of E bureaucracy, which I am afraid I have no patience with.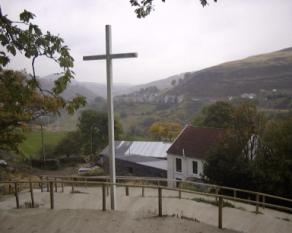 It is also a year on since Juliet's death and her farm in Blaenllechau has been redecorated, and the steps around the cross have been completed. This is an ongoing project that Meg and Sally want to honour. It's a pretty spot up in the Rhondda valley. All are welcome!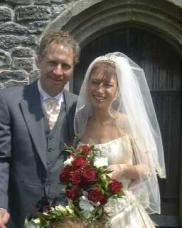 The great sadness of Juliet's death was relieved a little by the wedding of our niece, Claire, who married her man, John. It was a fantastic event in a castle in Wales with a great party and wonderful speech by Tony, her father! Well done, Claire! And congratulations, John!
On a holiday note, Meg and I have had wonderful times this year in Samos. We have fallen in love with the place and got very friendly with the folk that run a lovely taverna there. We did think of buying a place in Greece but I think that we are so happy in the Cotswolds that even the temptation of better weather will not entice us to leave, at least for the time being. Global warming also seems to be improving the weather here with what must have been the best Indian summer ever. But we are going to visit Samos fairly regularly I suspect, it is such a pretty place. And the wine is excellent – some of the best in Greece!
Hope you all have a wonderful 2004!
Very much love from us all, Eliot, Meg, Tom, Jessie and Sam